Warehousing and Distribution
At CyberFreight we can store your goods at locations all over the world, wel call that "Warehousing and distribution". Our warehousing in the Netherlands takes place at Schiphol Airport and in Rotterdam Port. There we have well-secured warehouses. In addition we can also take care of further distribution of your goods.
Manage your supplies online
With E-stock, our online warehouse management system you can keep an eye on your supplies real-time. Convenient when you are a client abroad who wants to check if certain parts are in stock in your warehouse on the other side of the ocean.
Cross Dock Service
Besides our distribution and warehousing services, we offer you our Cross Dock service. With this service we divide your imported consignment into different packages and subsequently distribute these to several addresses. We sort the Cross Dock consignment goods by the labels on the packages. It goes without saying that we take into account your specific demands. For example, by palletising, sealing or labelling consignments in accordance with your requests.
Various methods of distribution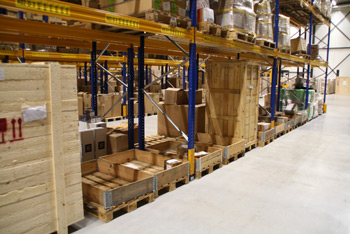 We offer you various methods of distribution of your stock. In Europe we forward large loads by road to its final destination. We often have better solutions for smaller loads, for instance by independent courier. We have contracts with several fine couriers. This enables our effortless distribution of all sorts of goods. Naturally you can also collect your shipment yourself if you like.
Your very own distribution worker
At CyberFreight you get your very own distribution worker who helps you from A to Z. Proficient and efficient, because this distribution worker knows your organisation's ropes and all the products you have in stock. If you are interested in this solution, please contact us.
Warehousing and Distribution in a nutshell
Your goods are stored at Schiphol Airport and in Rotterdam Port
You can manage your goods online (E-stock)
We offer you various methods of further distribution
We keep a close check on quantity and quality of goods