›
›
Aceto BV and CyberFreight International sign a long term contract
Aceto BV and CyberFreight International sign a long term contract
Aceto BV located in Heemskerk and CyberFreight in Amsterdam signed a contract on March 30, 2015, for a long term cooperation.
CyberFreight receives, picks and distributes API's (Active Pharmaceutical Ingredients) to destinations in the Benelux as well as other destinations within Europe on behalf of Aceto.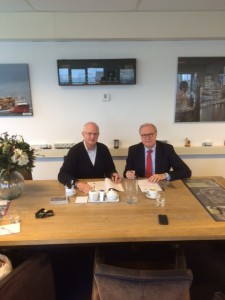 Since these products require GDP compliant storage and handling, CyberFreight will serve Aceto from their GDP warehouse in Nieuw Vennep.
This warehouse fully complies with the highest requirements, mandatory for handling these type of products.
Aceto BV selected CyberFreight based on GDP certification, the fact CyberFreight provides all services unbder its management (one stop shopping) and the fair rates.
The audit by Aceto's QA manager has taken place already, with the expected, good result.
Aceto BV is a subsidiary of Aceto Corporation, established in 1947. Aceto Corporation, located in New York, is an international marketing, sales and distribution company in Active Pharmaceutical Ingredients and performance chemicals.