›
›
Six donated refrigerators for child utilities to Haïti. CyberFreight takes care of the logistics process and transport
Six donated refrigerators for child utilities to Haïti. CyberFreight takes care of the logistics process and transport
CyberFreight handles the logistics process and transport for donated refrigerators for child utilities in Haiti. The 6 donated refrigerators were transported from our storage in Nieuw-Vennep on Wednesday January 27.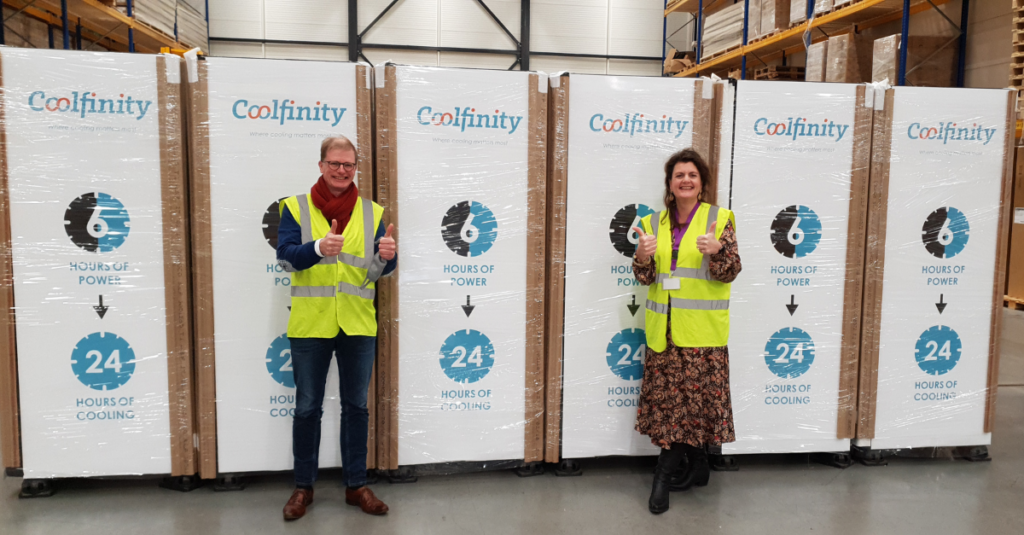 The shipment leaves for Haïti from the port of Rotterdam. Maarten ten Houten, director of Coolfinity and Pauline Lemberger, director of Stichting WereldOuders were present at CyberFreight on this occasion.
"COVID-19 is turning the whole world upside down, but for us children remain the number one priority," said Pauline Lemberger, WereldOuders Foundation.
If everything goes according to plan, the refrigerators will arrive in Port-au-Prince, the capital of Haïti, in about 3 weeks (end of February), after which they will reach their final destination. Upon arrival, the refrigerators go directly to various child aid programs and to the St. Damien Children's Hospital where the children are now assured of fresh food and drink.
CyberFreight is pleased to be able to contribute to such a special shipment.
On the photo: Maarten ten Houten (director Coolfinity) and Pauline Lemberger (director Stichting WereldOuders) at CyberFreight on location before departure.
ABOUT THE "WERELDOUDERS" FOUNDATION
The WereldOuders Foundation helps vulnerable children and their families in Latin America and the Caribbean. "We believe in the power of family. Every child deserves attention and unconditional love. That is why we offer vulnerable children in Latin America a stable and warm home, so that they have a chance for a better future. From the safety of a family, children receive individual attention and support in the areas of medical care, education and self-reliance, "says Pauline Lemberger.
ABOUT COOLFINITY
Coolfinity refrigerators are very suitable for tropical countries where the power supply is not always stable. This means that there is a good chance food, drink and sometimes even medication will be lost and must be thrown away. The Coolfinity Coolers work with a thermal battery, called an IceBank, which has to be charged for six hours and then can keep products cool for up to two days without electricity. "When temperatures are high, food and medicines can spoil quickly. Our refrigerators solve this problem, "explains Maarten ten Houten, director of Coolfinity.
"We also have a social role in these difficult times. (..) That is why we have decided to donate six refrigerators to the WereldOuders foundation. This is what we can do now ", says Maarten ten Houten, Director of Coolfinity.