GDP Storage
Storage of pharmaceutical products, whether it concerns medicines of raw materials (API's – Active Pharmaceutical Ingredients), are subject to strict guidelines. These guidelines are also called Good Distribution Practices. These guidelines are set out by the Ministry of Health, Sport and Welfare on the basis of the EU guidelines. With the assistance of IGZ (Inspectie voor Volksgezondheid – Healthcare Inspection) they monitor and enforce strict compliance of these guidelines in the Netherlands.
GDP (Good Distribution Practices) storage is only allowed if you have been approved and certified for this. One applies for a GDP Wholesale license, which can be obtained after an initial audit by IGZ and one complies with all conditions. Next, if you have been working under the wholesale license for some time, IGZ will stop by once more, for an unannounced audit. If the result is satisfactory, one will be nominated for the GDP Certificate.
If you do not have your own GDP compliant storage, you can also subcontract this to a company that has all the required licenses. CyberFreight is such a company, in possession of a GDP Wholesale license and officially GDP certified. Below you van read more about the possibilities CyberFreight has to offer under its GDP Wholesale license.
What can we do for you?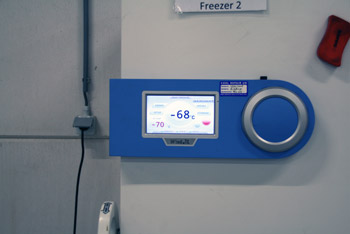 CyberFreight Pharma Logistics has a dedicated GDP storage facility in Nieuw Vennep, which is certified as well as temperature controlled. In this facility we maintain a temperature between 15 and 25 degrees Celsius and a special cool unit guarantee thee quality of pharmaceutical products and API's, which require storage under lower, monitored temperatures. Trained, certified employees make sure you are informed about the status and condition of your shipments and arrange, if required, distribution under GDP to hospitals, pharmacies and other wholesale companies in the Benelux and the rest of Europe.
In October 2014 IGZ visited CyberFreight unannounced for its GDP certification audit. Because we fully complied with all guideline qualifications, shortly thereafter we received the GDP Certificate. It goes without saying, we are very proud of this achievement.
CyberFreight is also API registered and can therefore also handle and store these goods and does so fully GDP compliant.