›
›
New website CyberFreight International
New website CyberFreight International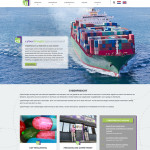 Recently CyberFreight assigned Pebbler – an online agency – for creating our new website due to the latest developments and standards.
Developments on the internet are changing frequently. Globally The Netherlands is one of the leaders when it comes to the frequency and length of time that people are online. Mobile users – when it comes to internet visits – count in our country already at 60% of the total in comparison with desktop usage.
So many websites have yet to be adapted for mobile use. In the meantime, Google rewards responsive (or screen-independent) websites with a higher indexation then conventional websites.
The new website is now live as you may have noticed!